|
CLasses
|
Adept
|
Engineer
|
Soldier
|
Infiltrator
|
Sentinel
|
Vanguard
|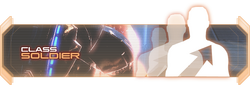 It's a thankless job—living day to day by your armor and the skill of your arm. To dive heedlessly into danger. They won't be issuing medals for the time you took that knife to the ribs for them in the bar in Omega. No flock of angels to sing of the time you dragged them, still screaming, from the edge of that Cerberus facility, no.

Forget them.

You do this for the guts and the glory. The scream of battle and the hot, hot blood of it. You are a beast of iron. Your friends may carry guns and ammo but, soldier, you are death. While your companions might moan about their wounds over a campfire in the wilderness, you bear your scars with pride.

You are the wall—let every danger smash itself to nothing on you. In the end, you'll be the last one standing.
Soldiers are highly trained combat troops. They range from guns for higher to professionals dedicated to their cause.
Primary Stat
: Hard +3
Suggested Class Move
–
Adrenaline Rush:
 When you go into battle, roll +Hard. On a 10+, hold 3. On a 7-9, hold 2. During the battle you can spend your hold 1 for 1 to:
Name an NPC within the reach of your weapon. You kill, disable or disarm them (GM's choice)

Name a character within melee range. You redirect their attack to another character within your reach, or else to nowhere – into the ground or a wall or the sky.

Name a character within your reach. While you keep fighting, you intercept any attack directed at them and they suffer no harm.

Ignore all harm to yourself from an incoming attack.
Take the Suggested Class Move and +1 Move from the 
Combat Moves
 list, or take +2 moves from the class list and forgo the suggested class move.
Starting Equipment:
Your load is 12+Hard
M-8 Avenger assault rifle (3-harm close loud autofire 3-weight)

M-23 Katana shotgun (3-harm close reload messy 2-weight)

M-5 Phalanx Heavy Pistol (2-harm close loud 1-weight)

Heavy combat armor with shield generator (3-armor, 2-shields, heavy 6-weight)

Bluewire Omni-tool
Last edited by Sithraider, July 19 2016 02:09:22. Secured game article. You most log in to contribute.